Explore Jaipur with the All New Club Mahindra Resort
Famed as the 'Pink City' of the country, Jaipur is pre-dominantly known for its rich heritage, historic architectures, and a culture that is worth marvelling. To enjoy your stay at this wonderful city in a regal way, Club Mahindra has recently associated with the exclusive Mansingh Towers for its members to enjoy a stay in this magnificent city. This resort is the latest addition from Club Mahindra in their list of luxury resorts. Sharing close vicinity to airport and major tourist attractions, this is the place you would surely like to be at your next stay in Jaipur. With spacious rooms and a multi-cuisine restaurant, the resort is your ideal stay option. Laze by the poolside or unwind at the bar, there are plenty of ways to relax. By paying a reasonable Club Mahindra membership fees as per the package chosen, you will get to enjoy a weeklong stay at this lavish resort in Jaipur city. Know more about Club Mahindra membership for family vacations in detail.
Jaipur seems to have a lot to offer in terms of extravagant palaces, historic monuments, and marvellous culture. This capital city of Rajasthan is loved by people across the world. As the colour pink is a symbol of hospitality, the entire city was painted in pink by the erstwhile Maharaja Ram Singh. When Lord Albert addressed it as the 'Pink City', soon after, that became the other name for Jaipur. The city is known for its magnificent architecture and its heritage properties. Jaipur reflects the majestic life of Rajput emperors and their fabled vision. Beautiful gardens and glorious forts, Jaipur is a great example of elegance and beauty. When you are in Jaipur, make sure you pay a visit to the following places.
City Palace
This is one of the most remarkable landmarks of Jaipur. The palace is an amalgamation of Rajput, Mughal, and European architecture. The City Palace comprises of Mubarak Mahal and Chandra Mahal which portray the cultural legacy of the erstwhile kingdom. Not only will you be enthralled by the marvellous architecture but also you will be captivated by the views of the Pink city from here.
Birla Mandir
Another beautiful place to visit is the Birla Mandir which is famously known as the Laxmi Narayan Temple. This was constructed by the eminent Birla family. Located near the Moti Dungri Fort, the temple is dedicated to Goddess Lakshmi and Lord Vishnu. The temple is built in white marble which adds to its architectural exquisiteness. Janmashtami is one of the best times to visit the temple when Lord Krishna's birthday is celebrated with great fervour.
Hawa Mahal
This is one of the must-go tourist places in Jaipur. Hawa Mahal is a very interesting place to visit as well. Do you know that the palace does not have any stairs? Instead, there are slopes which connect to the different floors. There are as many as 953 windows in the palace to enable ventilation. It is said that Hawa Mahal was constructed so that women of the royal family could view what was happening in the city.
Johari Bazaar
Johari Bazaar is not only the oldest market but also a classic depiction of Pink City. Most of the shops here are painted in pink. Famous for kundan jewellery, Jaipuri 'Rajai' and outfits in 'bhandej', this market is certainly a shopper's paradise. You can choose your style of shopping from either the showrooms which sell clothes at a fixed price or the street shops where you can bargain. This colourful market is truly delightful.
Dera Amer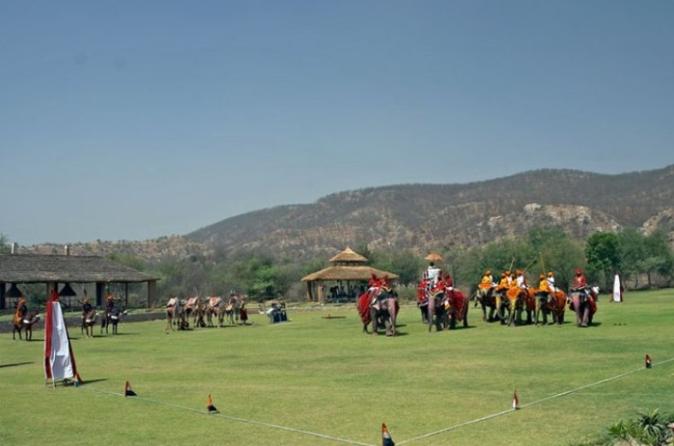 You can't afford to miss the elephant safari in Jaipur. Behind the Amera Fort is Dera Amer, situated at the foothills of the Aravallis. This is where you can enjoy the elephant safari. The ride will take you through stunning landscape and forests. You can also opt for the night elephant safari. All the safaris also provide meals to keep your taste buds engaged.
Get ready to discover Jaipur and have a royal family holiday with Mansingh Towers, Jaipur resort.
Explore top holiday destinations with your family and have a comfortable stay in India's favorite resort chain – Club Mahindra.